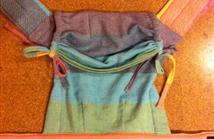 Our products
We create mei tai baby carriers and we specialize in wrap conversions.

How do I buy one?
You may be able to purchase an already completed design or work with us to create your custom carrier.
How do I wear one?
You can view step by step photos with instruction for how to safely wear your baby in a wear love studio carrier.